Touring requires three things –
Planning, Planning, and more Planning
Get this right and everything else falls into place.
We know how to get trucks of touring PA, lighting and video loaded in, up, and working in a few hours and all safely out again after the show, day in and day out.
But long before you hit the road, we also know how to take your vision and turn it into a reality.
Read on or get in touch for more information.
Pre-production suite
Equipment is all well and good, but it takes time to get everything set up and programmed just how you like it. It's important to have everything in order before you arrive at the first venue. JHAV HQ incorporates a full pre-production suite where technicians can prepare their gear, and artists can rehearse their show. We offer this facility to any artist or agency working with us.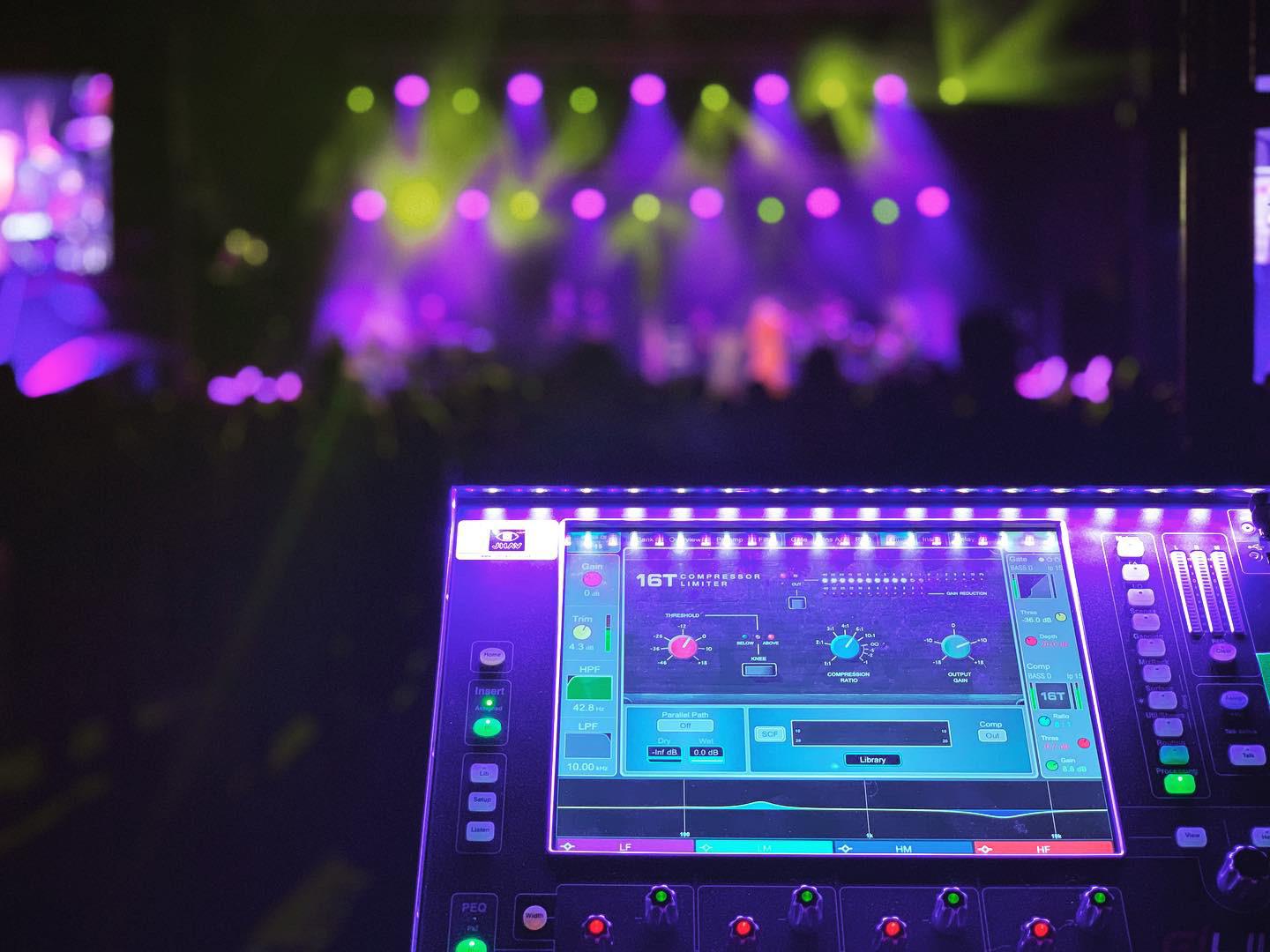 SCALABLE, RELIABLE SOLUTIONS

When you're touring the nation, working in venues of massively varying size and layout, you don't want to waste time re-making your touring system in the morning. We have always invested in D&B AUDIOTECHNIK as our PA of choice for shows both big and small.

This means we put the best tools in front of your engineers, ensuring consistent quality for the whole audience, no matter where they see your show.

It's easy to focus on the big-ticket items, but when you're putting up the same system every night, any way of shaving minutes off of your build goes a long way towards increasing crew happiness and reducing your labour costs. We haven't scrimped on any aspect of our touring rigs, so that you can be in and out as quickly as possible, no matter the size of the show.

Expand
PUT YOUR ARTIST IN THE BEST POSSIBLE LIGHT

A selection of lighting fixtures and effects can draw in your audience and increase your show's impact. We stock generic fixtures, moving head beams and washes, LED fixtures and battens, and a host of effects as well.

There's something in our stock to suit any budget and van pack. Even on smaller shows, floor packages ensure consistency in key looks in 'barebone' venues, and adding more fixtures right through to trucks full of LED panels only increases the wow factor of your show.

We don't scrimp on dimming and electrical distribution systems, either. We stock custom electrical distribution to suit any touring requirement, and can help you pack a 'minimum spend, maximum effect' kit of parts to help fit your show into any venue.

Expand
ONE-STOP SHOP

We strive to be your 'one-stop shop' touring supplier. In addition to the mountains of PA gear and cool lighting fixtures, we also stock a large selection of other touring necessities.

Staging – in several shapes and sizes, with handrails, steps, and other accessories.

Trussing – in any length, with corners, curves, and climbers also available.

Set and rigging – Chain hoists, motors, panelling, and essentials like shackles and spansets. All LOLER tested and checked before use.

Custom fabrication – in the unlikely event that we don't have something on the shelf that will do the job you want, we can build it. Custom sized projection surfaces, clever rigging solutions and signal processing boxes are but a few of the things we've supplied recently.

Expand
There's no such thing as low quality when you work with us
We offer equipment from manufacturers including DiGiCo, Midas, and Allen & Heath, to ensure maximum audio quality at any budget. It's the same story for the lighting department; control by Chamsys and Avolites, fixtures by Robe, Elation, and Chauvet, and more. This access to high quality industry standard equipment means less time spend chasing around to meet riders. And, because it's all from our stock, we can provide these brands at extremely competitive hire rates.
Posh toys as standard
When you're in the middle of a tour and far from home, you don't want to be worrying about whether your stage setup is going to work. We provide tried and tested gear for tours of any size, sure to put a smile on the faces of artists and audiences alike. This doesn't just mean enormous trucks of PA and lights. We also supply sensible small solutions to make your day easier when your tour fits into a splitter van.
Grab a coffee, give us a call and tell us your ideas
As a medical educational provider, accuracy and reliability are vital and JHAV has always offered us a fantastic service.

Their team is incredibly knowledgeable and they have facilitated a wide range of meetings, from the basics like streaming to more complex services such as speaker-to-peer interaction which allows us to hear from medical professionals around the world. 

Hugh Skelton (Head of Operations & Events, Neurology Academy)

Your attention to detail and ensuring we were 100% happy with the overall look and how to control the content was outstanding, you should all be be incredibly proud of the service you provide. We would not hesitate to use you in the future with our next production.

Tim McAuliffe (Falmouth Theatre Company)

Thank you again for all the hardwork you guys did, you were absolutely brilliant again and I definitely couldn't have done it without you.

Rebecca Green (Rebel and Anchor)

[JHAV] not only went above and beyond in delivering an exceptional set up but also stepped in and found solutions when significant last-minute issues came up. It's safe to say that without JHAV's support, our headline events wouldn't have taken place.

Valia Giannakaki (Events & Festival Operations Manager, British Science Association)

We gave JHAV a complex brief and they delivered on time and on budget. They provided excellent service and production for our exhibition stand, and we would recommend them to anyone looking for a creative technical event team.

Cornwall Development Company

Absolutely nailed it - JHAV turned all the ideas into reality, we look forward to working with them again.

The Atlantic Project | Read More